The MK-19 grenade launcher is a big, beastly weapon that takes an extraordinary amount of space to store. Combat High Density Weapon Racks are available to store MK-19s vertically with our MK-19 base and barrel saddle supporting one of the heaviest weapons in the field. Our fully modular back panel system allows for components to be reconfigured to store other weapons within the same rack.
Storage of MK-47s inside are also possible with our MK-19 components. M-3 tripods can also be stored in Combat High Density Weapon Racks to support the mounting system for the MK-19 & MK-47.
MK-19s in Combat Weapon Storage Systems™ can be stored with weapon system accessories above in shelves or bins or also a tier of carbines.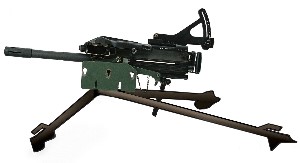 | | |
| --- | --- |
| MK19 Weapons Rack Storage Systems National Stock Number | |
| 1095-01-612-1545 | CWR10 - Stores 4 MK19s with 3 full width adjustable shelves above. 85" H x 36" W x 15" D. 9 point locking system |
| 1095-01-612-1928 | CWR11 - Stores 4 MK19s with 3 full width adjustable shelves above. 85" H x 36" W x 15" D. 10 point locking system |
| 1095-01-620-5538 | CWR34 - Stores any combination of 4 MK19s or 4 M2s with 8 spare barrels & 3 full width adjustable shelves above. 76" H x 36" W x 15" D 9 point locking system |
| 1095-01-620-5605 | CWR35 - Stores any combination of 4 MK19s or 4 M2s with 8 spare barrels, 1 M240/M249 & 3 full width adjustable shelves above. 76" H x 36" W x 15" D 9 point locking system |
| 1095-01-620-5591 | CWR36 - Stores any combination of 4 MK19s or 4 M2s with 8 spare barrels & 12 M4s above. 85" H x 36" W x 15" D 9 point locking system |
| 1095-01-620-5764 | CWR37 - Stores any combination of 4 MK19s or 4 M2s with 8 spare barrels, 1 M240/M249 & 14 M4s above. 85" H x 42" W x 15" D 9 point locking system |
| | |
| --- | --- |
| | |
| MK19s stored with M4s above | 4 MK19s stored with M4s above in 36" W weapon rack |
| | |
| MK19 stored side by side M2 | |